BACK TO ITALY
I don't have very many pictures of Rome, I dropped my camera in the Roman Baths. Ha, Ha! Ok so they really don't have water in them, but I did drop my camera in a puddle near them. I lost a whole roll of film and it took a few days for my camera to start working. And it still works today! Nikon's cameras are good cameras!
Inside of the Colosseum, The Colusseum was opened for use
around 80 AD. It could hold between 40,000 and 50,000 people.


Outside of the Colosseum

VITTORIANO


A gigantic white limestone monument to king Vittorio Emanuele II, meant as a tribute to unified Italy in 1885. Inaugurated in 1911 and designed by Guiseppe Sacconi who was very much inspired by Classical models. Nicknamed 'Mussolini's Typewriter'.


Vatican City


Trevi Fountain


Me, Jeremy Pentz, & his Mom outside of the Sistine Chapel


WARNING: This picture will be slow to load.
The Pope, Pope John Paul the II. I got a lot closer to him at the Holy Saturday Mass, but I didn't get a picture, so this one must do.
The Holy Saturday Mass was 4.5 hours long...in Latin. I don't know any Latin, and the Program (translation) was in Italian, of course.
But I did get to see the inside of St. Peter's Basilica with all the bright lights. It was great. I didn't get to see the front of St. Peter's because
they were resorting it for the Millennium. Lucky me!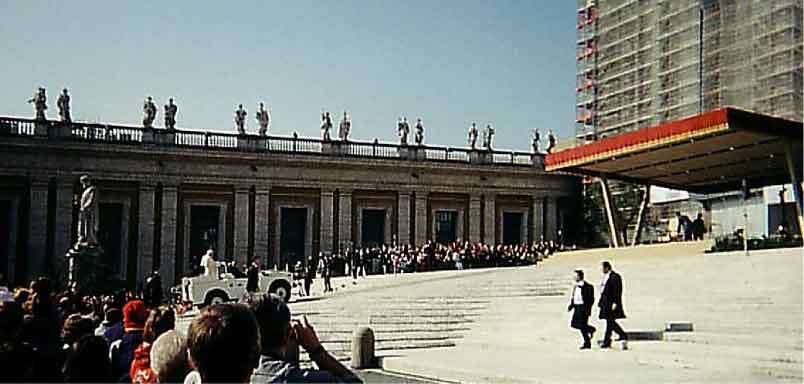 BASILICA DI SAN PIETRO


St Peter's Basilica was built in 324 AD on the orders of the first Christian Emperor, Constantine, on the spot where Peter the Apostle was buried after being martyred in Nero's circus. The building of the Renaissance structure we see today took a vast range of architects, painters and sculptors, and most of the 15th, 16th and 17th centuries. Michelangelo designed the enormous dome, inspired by Brunelleschi's one on the Florence cathedral.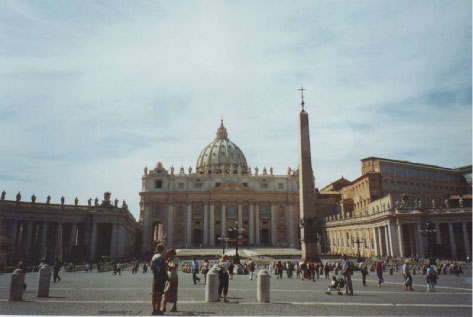 This is what it should look like without scaffolding